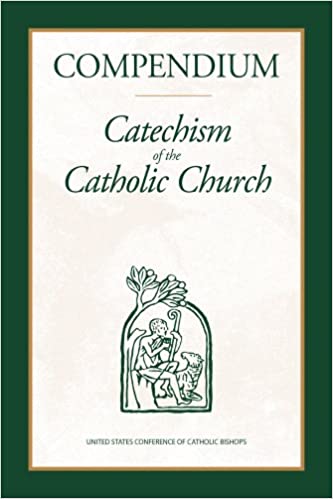 Catechism Live is a live-streamed study of the Catholic faith for adults. It normally runs Tuesday and Thursday evenings at 6:00pm.
The study text is the Compendium of the Catechism of the Catholic Church, which is a summary of Catholic teaching in question and answer form.
Each question is numbered. In our study, we use the question numbers (not page numbers), typically discussing a handful of questions each session.
Participants take part by reading the questions in advance and then by watching the discussion on Facebook, posting their own insights and questions in the comments.
Where can I find the textbook?
This text is available online for free on the Vatican website.
It is also available in paperback and Amazon Kindle formats.
Where can I watch the live stream?
> Sessions can be viewed live on our parish Facebook page.
Past Videos and Upcoming Sessions:
All sessions are live at 6:00pm Central but can be viewed and commented on any time.
Year 2020:
Part I
1. Tuesday, April 14: Compendium, questions 1-5 [What the Compendium is and how to read it; Man's Capacity for God]
2. Thursday, April 16: Compendium, questions 6-10 [The Revelation of God]
3. Tuesday, April 21: Compendium, questions 11-17 [The Transmission of Divine Revelation]
4. Thursday, April 23: Compendium, questions 18-24 [Sacred Scripture]
5. Tuesday, April 28: Compendium, questions 25-29 [I Believe]
6. Thursday, April 30: Compendium, questions 30-32 and 33-35 [We Believe; The Symbols of Faith]
7. Tuesday, May 5: Compendium, questions 36-43 ["I believe in God the Father Almighty,
Creator of heaven and earth."]
8. Thursday, May 7: Compendium, questions 44-49 [The Trinity]
9. Tuesday, May 12: Compendium, questions 50-58 [Attributes of God, Creation, and Providence]
10. Thursday, May 14: Compendium, questions 59-65 [Heaven and Earth]
11. Tuesday, May 19: Compendium, questions 66-72 [Man]
12. Thursday, May 21: Compendium, questions 73-78 [The Fall]
13. Tuesday, June 2: Compendium, questions 79-84 [I Believe in Jesus Christ, the Only Son of God]
14. Thursday, June 4: Compendium, questions 85-89 ["Jesus Christ was conceived by the power of the Holy Spirit, and was born of the Virgin Mary"]
15. Tuesday, June 9: Compendium, questions 90-95 [Christ's Knowledge and Will; Mary]
16. Thursday, June 11: Compendium, questions 96-100 [Mary]
17. Tuesday, June 16: Compendium, questions 101-111 [Mysteries of Christ's Life]
18. Thursday, June 18: Compendium, questions 112-116 [Mysteries of Christ's Life Continued]
19. Tuesday, June 23: Compendium, questions 117-124 [Christ's Cross and Death]
20. Thursday, June 25: Compendium, questions 125-131 [Christ's Descent into Hell and Resurrection]
21. Tuesday, June 30: Compendium, questions 132-135 [Christ's Ascension and Second Coming]
22. Thursday, July 2: Compendium, questions 136-146 [The Holy Spirit]
23. Tuesday, July 14: Compendium, questions 147-152 [The Church]
24. Thursday, July 16: Compendium, questions 153-160 [The Church]
25. Tuesday, July 21: Compendium, questions 161-165 [The Church]
26. Thursday, July 23: Compendium, questions 166-170 [The Church]
27. Tuesday, August 4: Compendium, questions 171-176 [The Church]
28. Thursday, August 6: Compendium, questions 177-183 [The Faithful]
29. Tuesday, August 11: Compendium, questions 184-187 [The Bishops]
30. Tuesday, August 18: Compendium, questions 188-191 [The Lay Faithful]
31. Thursday, August 20: Compendium, questions 192-195 [The Consecrated Life; The Communion of Saints]
32. Tuesday, August 25: Compendium, questions 196-201 [Mary, Mother of the Church; The Forgiveness of Sins]
33. Thursday, August 27: Compendium, questions 202-206 [The Resurrection of the Body]
34. Tuesday, September 1: Compendium, questions 207-213 [Heaven, Purgatory, Hell]
35. Thursday, September 3: Compendium, questions 214-217 [Final Judgment]
Part II
36. Tuesday, September 8: Compendium, questions 218-223 [Liturgy]
37. Thursday, September 10: Compendium, questions 224-228 [The Sacraments]
38. Tuesday, September 15: Compendium, questions 229-232 [The Sacraments]
39. Thursday, September 17: Compendium, questions 233-238 [The Celebration of the Liturgy]
40. Tuesday, September 22: Compendium, questions 239-243 [Sacred Images and Time]
41. Thursday, September 24: Compendium, questions 244-249 [Buildings and Ritual Traditions]
42. Tuesday, September 29: Compendium, questions 250-259 [Baptism]
43. Thursday, October 1: Compendium, questions 260-264 [Baptism]
44. Tuesday, October 13: Compendium, questions 265-270 [Confirmation]
45. Thursday, October 15: Compendium, questions 271-275 [The Eucharist]
46. Tuesday, October 20: Compendium, questions 276-281 [The Eucharist]
47. Thursday, October 22: Compendium, questions 282-286 [The Eucharist]
48. Tuesday, October 27: Compendium, questions 287-294 [The Eucharist]
49. Thursday, October 29: Compendium, questions 295-301 [Penance]
50. Tuesday, November 3: Compendium, questions 302-306 [Penance]
51. Thursday, November 5: Compendium, questions 307-312 [Penance; Indulgences]
52. Tuesday, November 10: Compendium, questions 313-320 [Anointing of the Sick]
53. Thursday, November 12: Compendium, questions 321-327 [Holy Orders]
54. Tuesday, November 24: Compendium, questions 328-336 [Holy Orders]
55. Dec. 1 Compendium, questions 337-344 [Matrimony]
56. Dec. 3 Compendium, questions 345-350 [Matrimony]
57. Dec. 10 Compendium, questions 351-356 [Sacramentals; Funerals]
Part III
58. Dec. 15 Compendium, questions 357-362 [Morality; The Image of God]
Year 2021:
59. Jan. 5 Compendium, questions 363-369 [Freedom]
60. Jan. 7 Compendium, questions 370-376 [The Passions; Conscience]
61. Jan. 12 Compendium, questions 377-383 [The Virtues]
62. Jan 14 Compendium, questions 384-390 [The Theological Virtues]
63. Jan 19 Compendium, questions 391-400 [Sin]
64. Jan 21 Compendium, questions 401-410 [Social Life]
65. Feb. 2, Compendium, questions 411-414 [Social Judstice]
66. Feb. 4, Compendium, questions 415-421 [The Moral Law]
67. Feb. 9, Compendium, questions 422-428 [Justification and Merit]
68. Feb. 11, Compendium, questions 429-433 [The Church as Moral Teacher]
69. Feb. 16, Compendium, questions 434-441 [The 10 Commandments]
70. Feb. 18, Compendium, questions 442-446 [The First Commandment]
71. Feb. 23, Compendium, questions 447-454 [The Second and Third Commandments]
72. Feb. 25, Compendium, questions 455-465 [The Fourth Commandment]
73. Mar. 2 Compendium, questions 466-472 [The Fifth Commandment]
74. Mar. 4 Compendium, questions 472-479 [The Fifth Commandment]
75. Mar. 9 Compendium, questions 480-486 [The Fifth Commandment]
76. Mar. 11 Compendium, questions 487-491 [The Sixth Commandment]
77. Mar. 16 Compendium, questions 492-502 [The Sixth Commandment]
78. Mar. 18 Compendium, questions 503-508 [The Seventh Commandment]
79. Mar. 23 Compendium, questions 509-514 [The Seventh Commandment]
80. Mar. 25 Compendium, questions 515-520 [The Seventh Commandment]
81. Apr. 13 Compendium, questions 521-526 [The Eighth Commandment]
82. Apr. 15 Compendium, questions 527-533 [The Ninth and Tenth Commandments]
83. Apr. 20 Compendium, questions 534-540 [Prayer - Old Testament]
84. Apr. 22 Compendium, questions 541-547 [Prayer - Jesus and Mary]