St. Brendan Parish
615 S Washington St.
Mexico, MO 65265
(573) 581-4720
Mass and Confession Times
Weekend Masses:
Saturday:  5:30 p.m. (English).
Sábado: 7:00 p.m. (Misa en español)
Sunday: 9:00 a.m. (English)
Sunday: 12:00 p.m. (Latin, extraordinary form)
Weekday Masses:
Monday:  No Mass
Tuesday:  8:00 a.m. (when school is in session)
Tuesday: 6:30 p.m. (at hospital chapel)
Wednesday:  8:00 a.m.
Thursday:  8:00 a.m.
Friday:  8:00 a.m.
Confessions:
Saturday: 4:00 p.m.
Sunday: 8:15 a.m.
Tuesday-Friday: before morning Masses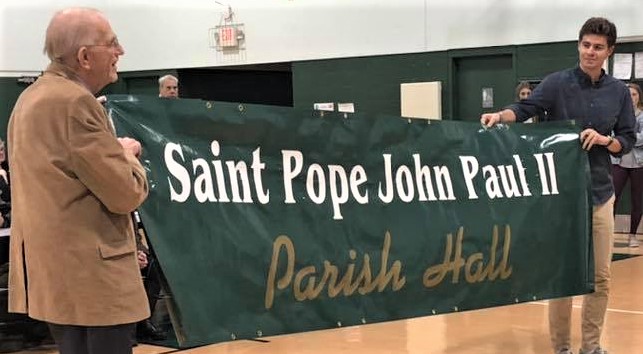 Dr. and Mrs. Wilbers won the right to rename the parish hall at our annual school dinner auction. They have named it in honor of St. John Paul II. Dr. Wilbers spoke to the significance of John Paul II and his grandson's devotion to this saint at the renaming ceremony.
Join us for an exciting and inspirational day where we hear the powerful witness of Kelly Wahlquist (founder of WINE/Women in the New Evangelization) as she explores Christ's Passion through the eyes of women. Registration includes a day of great talks, Lectio Divina, adoration, lunch, snacks, music, and a goodie bad filled with fun items. $40…
Bishop's messages Please include this invitation in parish bulletins and other communications: Bishop W. Shawn McKnight invites you to attend our annual Chrism Mass at the Cathedral Church of St. Joseph, 2215 W. Main St., Jefferson City on Thursday, April 2, at 5:30 p.m. This liturgy unites the diocese in recalling the gifts of the…